Those not fit to be MPs can be removed according to latest Bill drafted - Wijeyadasa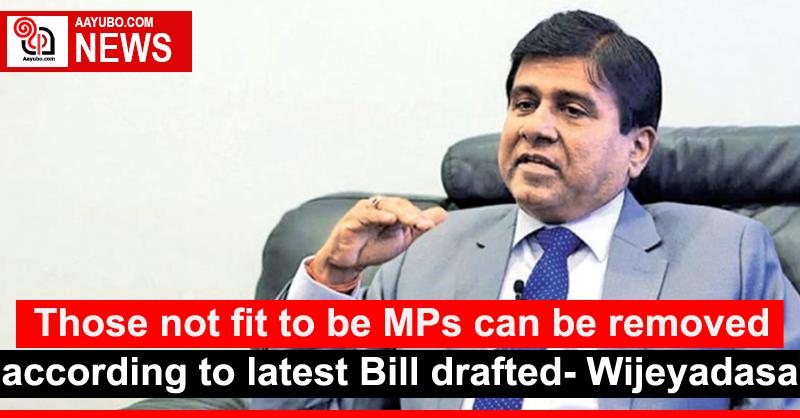 Those who are not fit to be MPs can be removed once the proposed Parliament Standards Bill is enacted, Minister of Justice Wijeyadasa Rajapakshe said yesterday.
The Minister came up with this remark after arguments flared up in the House after SJB MP Chaminda Wijesiri raised a privilege issue on an allegation against him by MP Samanpriya Herath on an earlier date.
"We will present the Standard Bill to Parliament soon, but before that Prime Minister Dinesh Gunawardene will speak to party leaders on this. The Prime Minister will talk to the party leaders on the Bill and will make necessary amendments to it," the Minister said.
"Also courts have declared that the law which existed during the time of Lord Soulbury and its provisions for the expulsion of any MP from the House are still in force," he added.
MP Wijesiri who raised the privilege issue said an indictment was issued against him for an assault.
"MP Hearth talked about an assault case but that was a case of political victimization. However, I must say that MP Herath had rented the MPs quarters given to him from the Madiwela MPs quarters. Also he said MP Hearth had entered a poultry farm which does not belong to him and had eaten the birds," he said.
"Prove your allegations. They are nothing but false," he said.
Speaker Mahinda Yapa Abeywardene also told MP Wijesiri that he will have to prove all the allegations he had made.
MP Wijesiri earlier accused the Speaker for failing to take action on the harassment he had suffered in the hands of some officials in Parliament. He also accused those in his own party for failing to defend him.
76 Views