Navy arrests 17 TN fishers, CM Stalin urges centre to get them out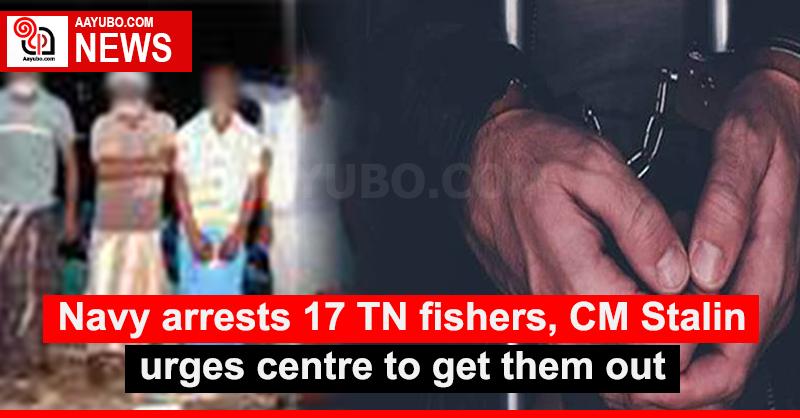 A total of three boats including one from Rameswaram were caught by the Sri Lankan Navy in the mid-night hours for alleged violation of the International Maritime Boundary Line (IMBL) and fishing in the island nation's waters off Delft Island near Neduntheevu.
About 17 fishermen including 8 from Rameswaram were arrested and three boats were seized by the SL Navy which are said to be taken to Kankesanturai for further action.
About 500 boats from Rameswaram had ventured into the sea on Wednesday. Sources said a few of them, who were involved in fishing activities, were chased off by the Sri Lankan Navy during the night hours. Three boats that carried 17 fishermen were captured for allegedly violating the IMBL.
Local sources said that one of the boats was from Rameswaram and carried 8 fishermen who identified as Antony (46) owner of the boat, Arun (37), Murugan (43), Kingston (37), Kirton (40), Murugan (40), Karlmarcus (41), and Remotan (22) all belong to Thangachimadam and Rameswaram areas.
Sri Lankan Navy officials said that The Sri Lanka Navy conducted a special operation to chase away Indian poaching trawlers from Sri Lankan waters on the evening of 13 September 2023. Northern Naval Command deployed Fast Attack Craft of the 04th Fast Attack Flotilla to chase away a cluster of Indian poaching trawlers, after having spotted they were engaging in illegal fishing in Sri Lankan waters off the Kakarathivu Island and Kovilan Lighthouse on 13th September. In this operation, the Navy held 3 Indian poaching trawlers that continued to remain in island waters, with 17 Indian fishers aboard. The 3 poaching trawlers together with 17 Indian fishermen were brought to the port of Kankasanthurei and they will be handed over to the Fisheries Inspector of Mailadi for onward legal proceedings.
Including the poaching trawlers held in this operation, the Sri Lanka Navy has seized 17 Indian poaching trawlers and apprehended 110 Indian fishermen thus far in 2023. Following these apprehensions, the poaching trawlers and fishermen have been handed over to relevant authorities for legal action.
Meanwhile, Chief Minister MK Stalin on Thursday wrote to Union External Affairs Minister S Jaishankar urging him to initiate immediate diplomatic efforts to secure the release of the fishermen. Stalin said, "Recurring arrests of Tamil Nadu fishermen continue to aggravate the atmosphere of fear and uncertainty among our fisherfolk. These people, who rely on fishing for survival, sometimes unintentionally drift into Sri Lankan waters due to navigational challenges."
Stalin urged the union minister to immediately initiate diplomatic efforts with the Sri Lankan government to secure the release of the fishermen. The CM also reiterated his long-standing demand to initiate bilateral negotiation to find a lasting, diplomatic solution to the issue.
PMK founder S Ramadoss, and leaders of various political parties too called upon the Union government to take steps to resolve the issue. The Sri Lankan Navy has arrested 110 Indian fishers this year.
Fishermen association leader from Rameswaram Emerald alleged that though action towards releasing the fishermen is being taken no action was taken in the past couple of years to retrieve the seized boats, which leaves boat owners in massive debt and leaves fishers without work. Fishermen association demands the union government take action to retrieve the boats and also to host meetings with the Sri Lankan authorities to solve the Katchatheevu issues so that fishermen from both countries can fish peacefully.
44 Views